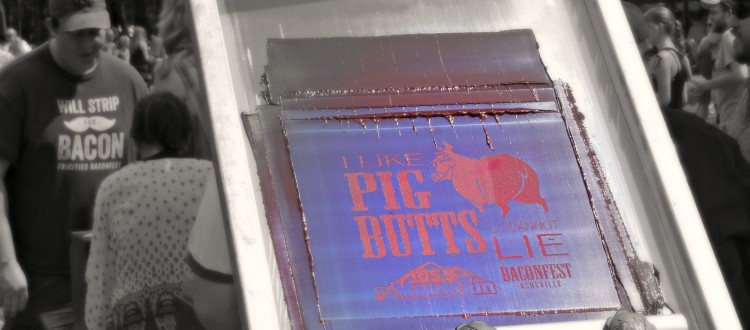 BACONFEST 2015 : The Perfect Saturday
Beer & Bacon- what better way to spend a Saturday? August 29th marked 105.9 The Mountain's 3rd annual BaconFest – at Highland Brewing  Live music and Highland craft beer set the scene to taste dozens of local restaurant's amazingly tasty samples of everything….BACON! From pralines to jerky to sliders to BBQ- it was all things pig.
General admission included all your food 'tastings' with beer/wine for purchase by Highland, including small batch specialty brews like Cask of Black Mocha Stout with Maple and Cask of Oatmeal Porter with Cayenne Pepper! And, with so many different food vendors in attendance- it was easy to fill your belly ( think late lunch.)
Folks set up chairs and blankets under the trees and patiently stood in line for 'bite.'  The beer lines moved quickly and efficiently while the bathroom lines remained short. With over 2,200 people in attendance it was nice to see the crowd relaxed and amicable for a lovely and fun-filled afternoon.
BaconFest is a kid-friendly event with games and a bouncy house, plus, kids 9 and under are Free to get in- an extra bonus for families wanting to get out and enjoy a local food/beer festival. Also, this is an outdoor event- rain or shine and parking is shuttled in from the Bi-Lo shopping center for general admission ticket holders. So, you want to prepared.
Bottom line- this event is A Lot of fun and impeccably run.
So, if you LOVE BACON – check out my gallery of event photos below and mark your calendars for BACONFEST 2016!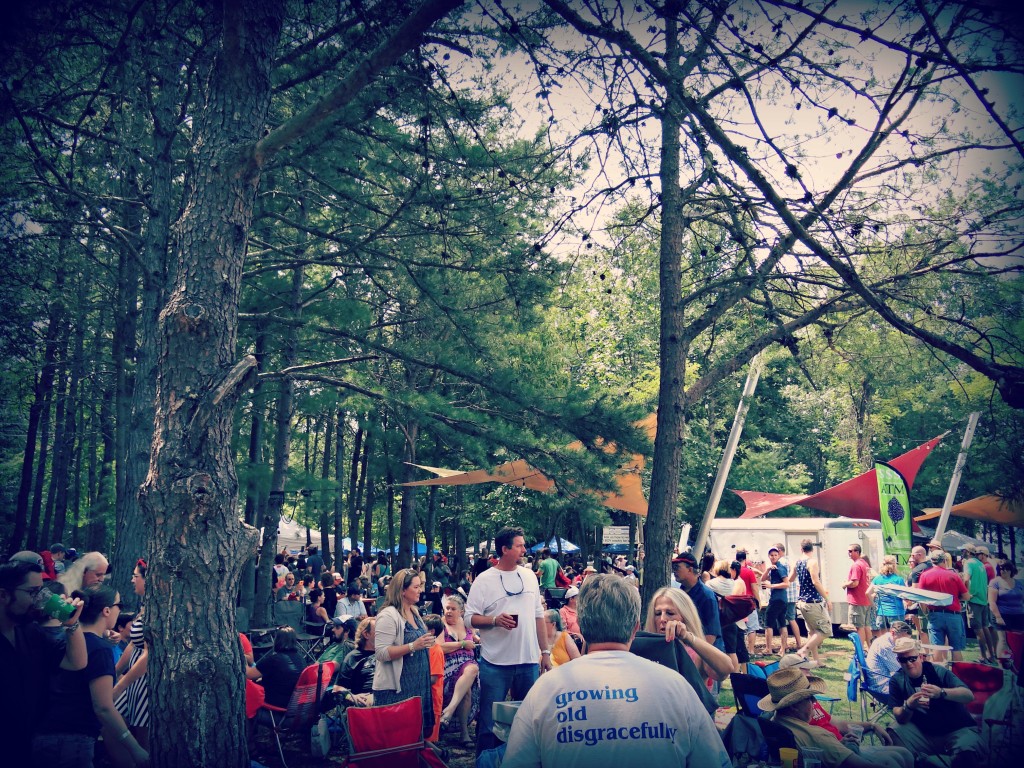 Fabulous Slogan-T's were everywhere.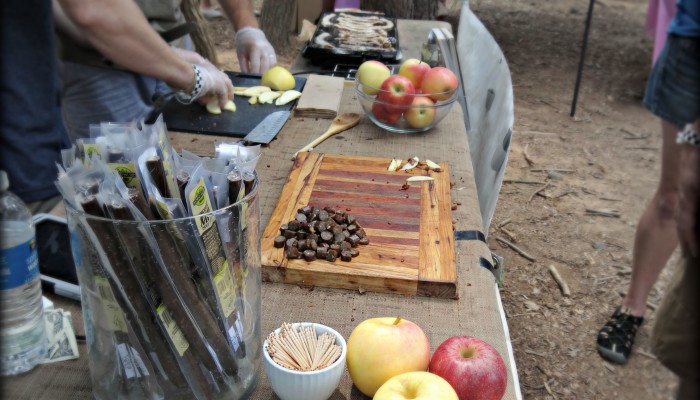 Samplings from Hickory Nut Gap Farm.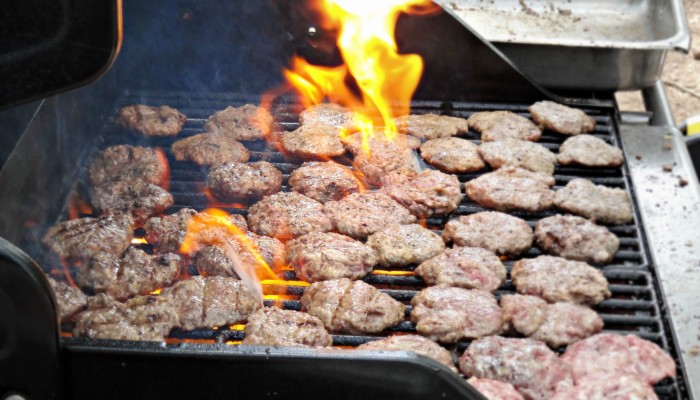 Chop House serving up beef & pork belly sliders.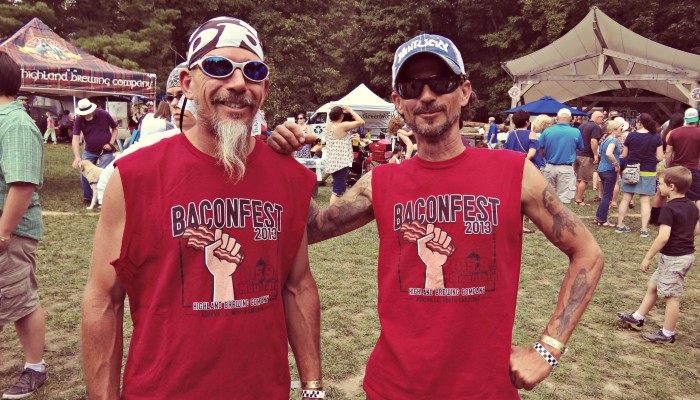 BaconFest fans- three years in the making!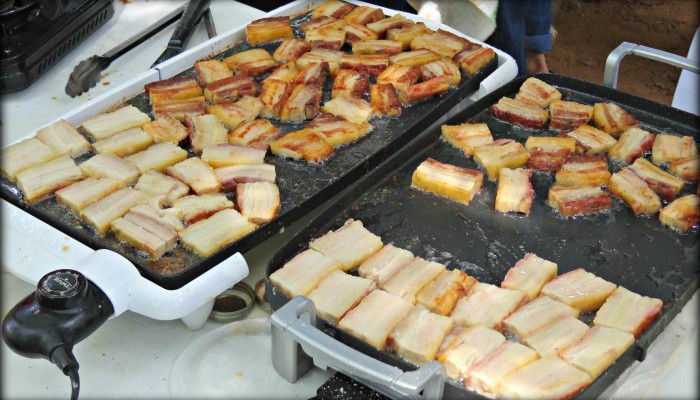 Pork Belly on the griddle!

Keep'n it shady: most vendor tents were nestled among the trees.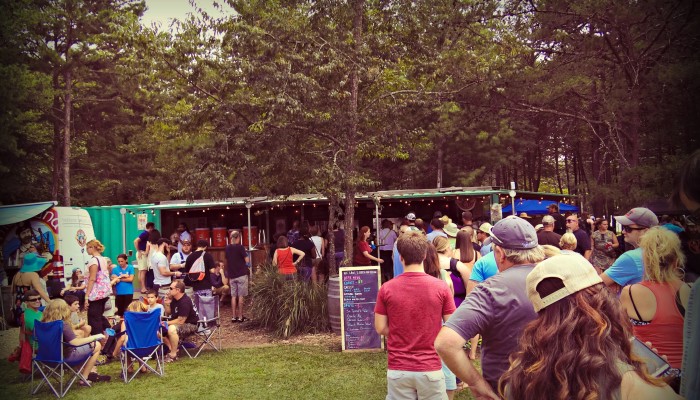 Lining up for local Beverages…
Highland Brewing's Bar staff rock'n it.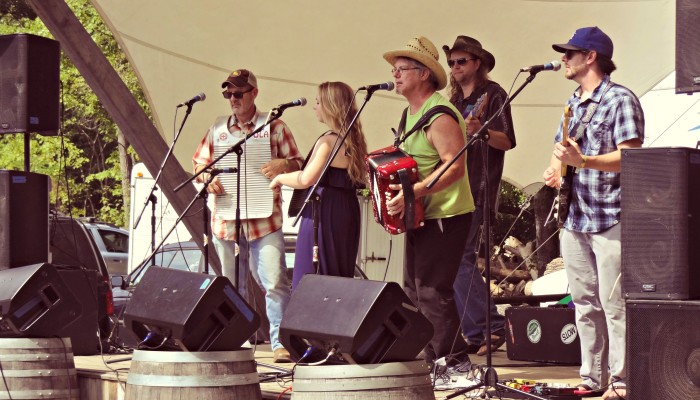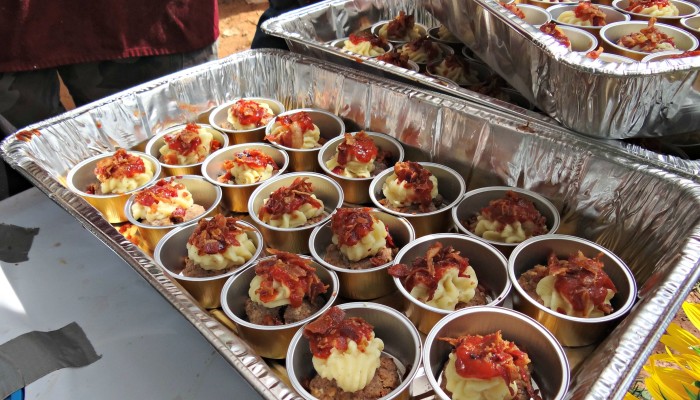 The Take Out's  award winning dish!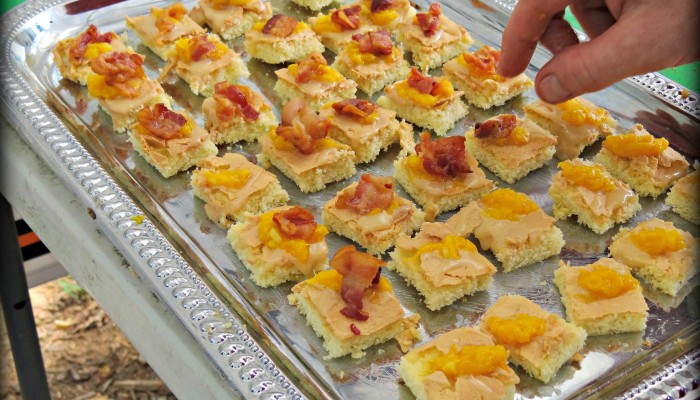 Lexington Ave Brewing delivering up some delicious-ness!!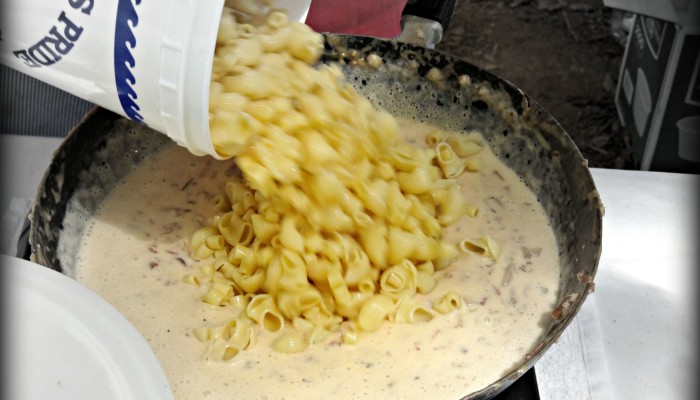 In the making….French Quarter's 'secret ingredient' pork mac & cheese.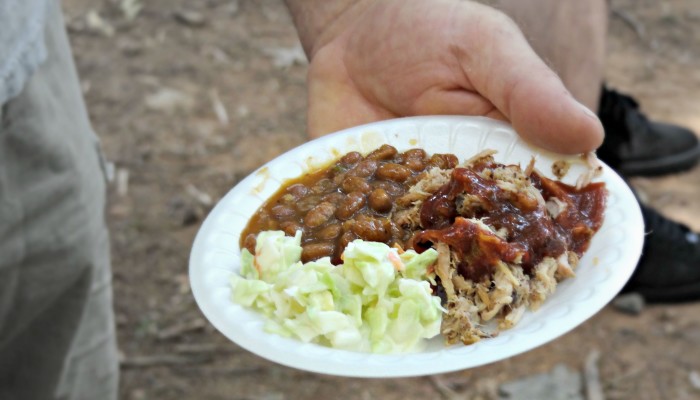 Dickey's BBQ Pit's plate of goodness!
To keep it fun, there were contests and even a website ( Bacon Ballot ) for voting for favorites like: Best Overall Dish, Most Outrageous Dish and Best Sweet Swine.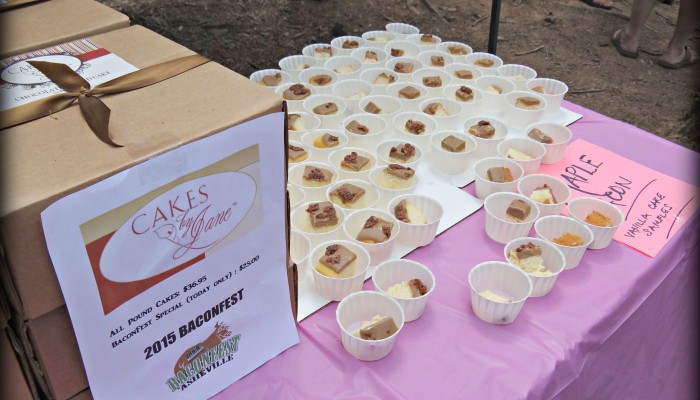 Cakes by Jane's Maple Bacon Poundcake- soooo good..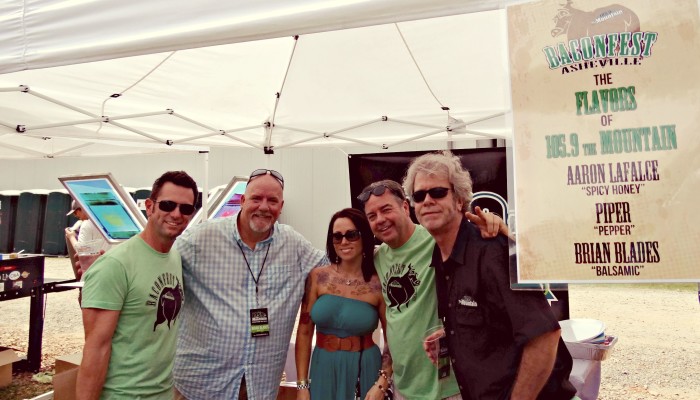 105.9 The Mountain had their own contest and cooked up over 20 pounds of Bacon!!!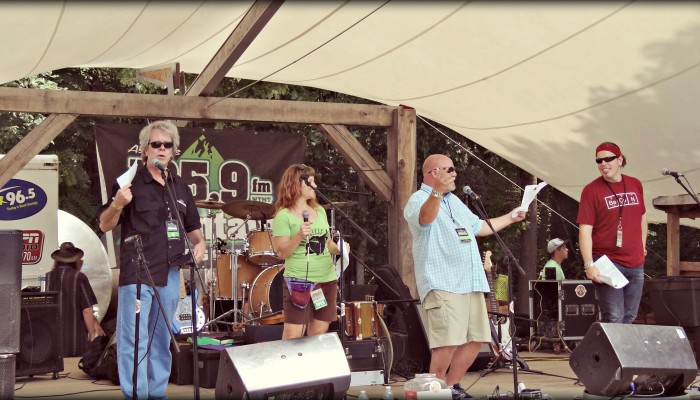 105.9 The Mountain's on-air team.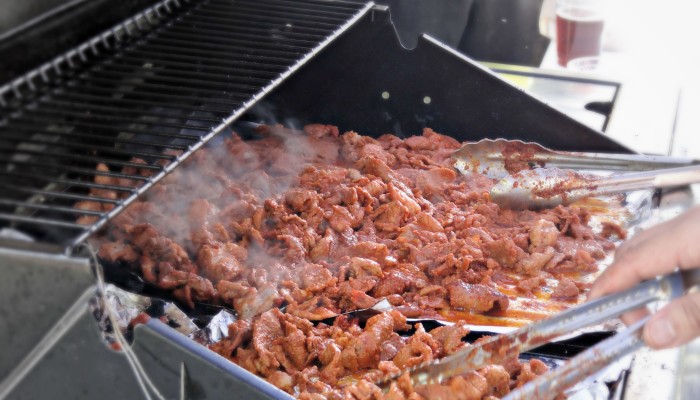 Korean House killing it with spicy pork lettuce wraps.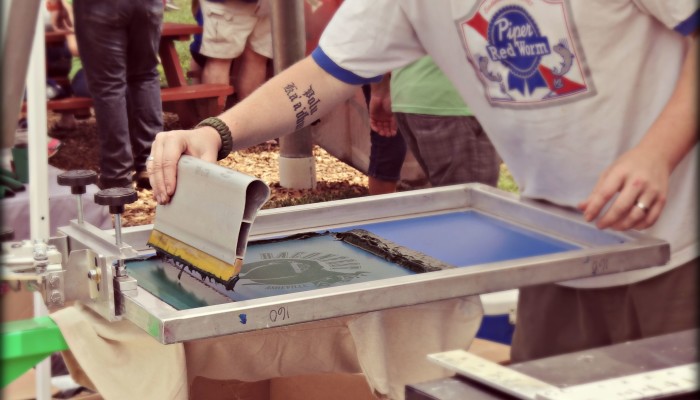 On-site screen printing by  Blu Bus Clothing Co.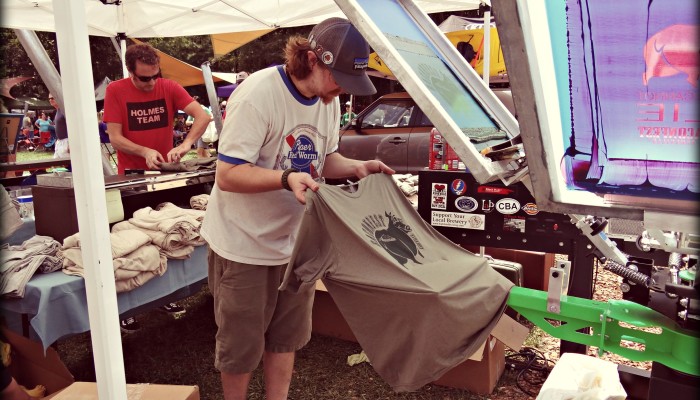 T-shirts: hot of the presses!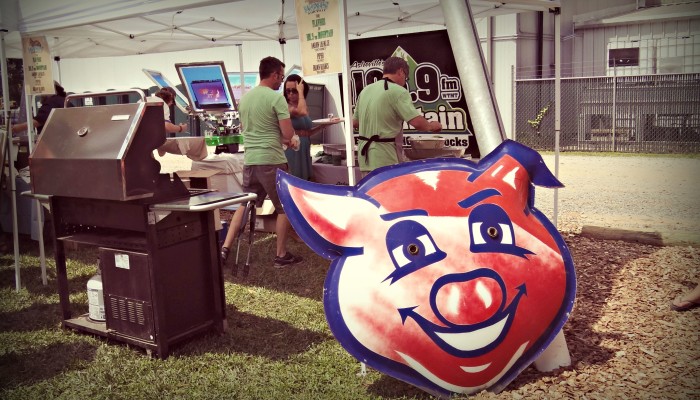 Don't miss out! Mark your calendars for BACONFEST 2016!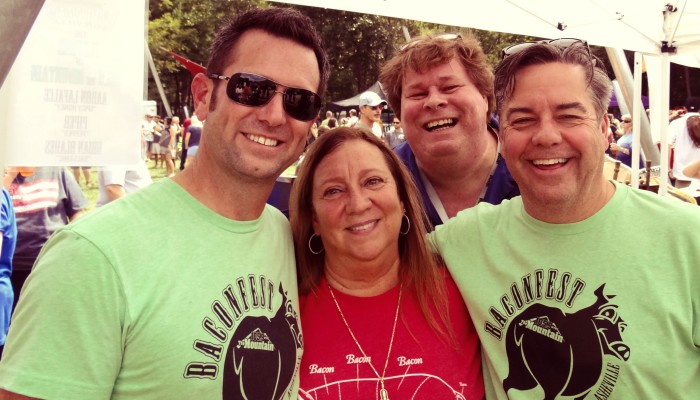 For more information about 2016 vending or event details, check out baconfestasheville.com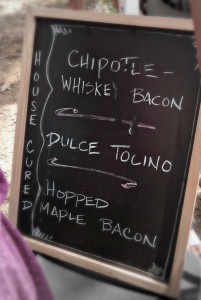 2