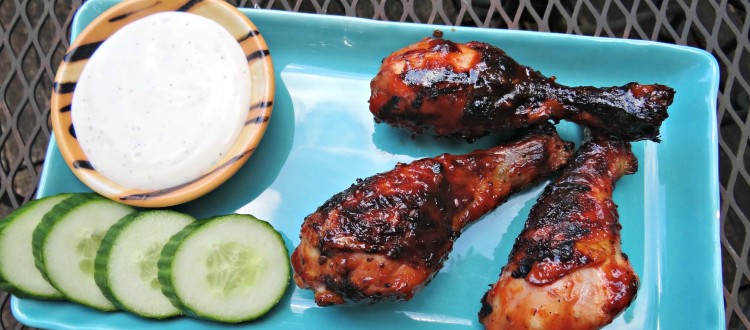 Fall Grill'N: Sticky BBQ Chicken Drummies
Yes, grilling in October! Here in Western North Carolina, the temperature can bounce between the low 30's at night to a blissful 75 degrees in the afternoon;  giving us locals plenty of opportunities to get out and use our grills before winter sets in.  And, since I love being outdoors in the fall, for me, firing up the grill is a win-win.
Really, what's better for a Saturday evening bonfire or an afternoon of Sunday NFL watching than a batch of grilled BBQ chicken drumsticks? Sticky, spicy and sweet- these little drummies are easy to make and great as leftovers. Serve them hot or room temperature along with your favorite side dishes and dipping sauces. I like to serve mine with my olive potato salad, veggies, and ranch dressing for dipping. Yum!! Protein packed, gluten-free and low-carb: these juicy chicken drumsticks are sure to please everyone.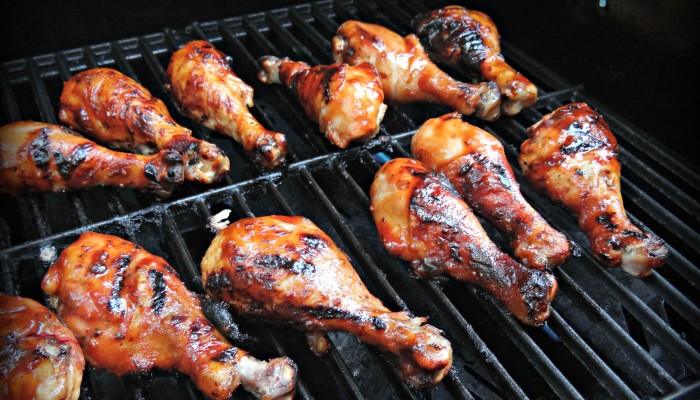 When shopping, look for organic chicken drumsticks at your local grocer. Here, our local grocery chain, Ingles, carries them and often has them on special. Trader Joe's carries them as well. I find the organic drumsticks are larger and juicer…and it's always good when we can eat organic and hormone-free poultry, especially when it's affordable.
I choose to whip up a quick homemade marinade for the drumsticks and let them sit in a zip-lock bag in the fridge for a few hours before tossing them onto the grill. When on the grill I use a Siracha and Roasted Garlic BBQ sauce from Trader Joe's to baste the chicken. This sauce makes the drummies nice and sticky, and I absolutely LOVE the flavor!                     Siracha BBQ – why, yes!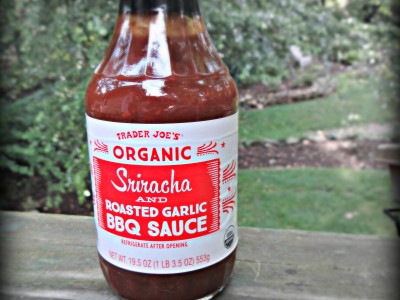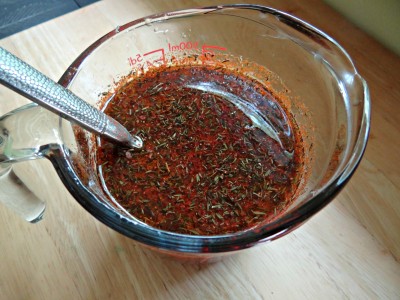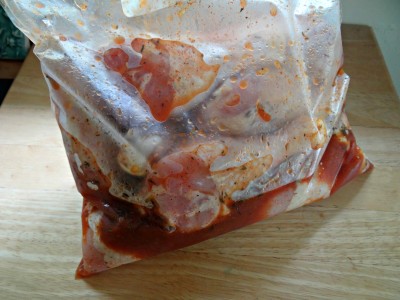 Marinade:
Whisk together the following ingredients and poor over 12 – 16 drumsticks.  Store in a plastic zip bag and refrigerate for at least 4 hours or overnight.
3/4 cup Apple Cider Vinegar
3/4 cup Water
2 Tablespoons Olive Oil
2 Tablespoons Honey
1 Tablespoon dried Basil
2 teaspoons dried Thyme
1 Tablespoon Chili powder
1 teaspoon Salt
2 teaspoons fresh ground Pepper
1 teaspoon Chipotle powder (optional)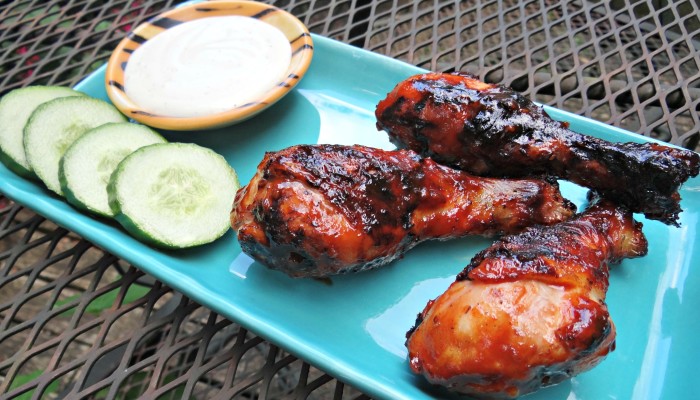 To Grill: 
Preheat grill. For a gas grill: turn down grill to medium or medium-high, depending on how hot your grill runs. Place chicken drummies on grill and lower lid. Cook for 30 – 35 minutes flipping every 5-7 minutes. Baste your drumsticks with the BBQ sauce during the last 6 minutes of grilling time. You'll want to flip them at least once during this process to ensure the entire drumstick is coated. Using a meat thermometer- check the temperature of your drumsticks, once they reach 185 – 190 degrees they are done!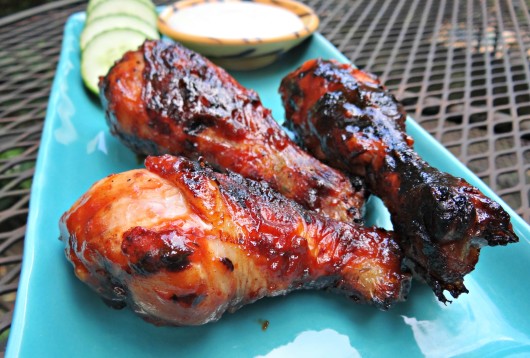 TIPS: if your new to grilling, do not be intimated. Keep your lid covered when not flipping the drumsticks as the retained heat will cook the chicken through without scorching the skin. If, you do burn the skin ( which, I often do ) just baste the BBQ sauce more than once on that part- it'll soften the area and just make it more yummy. In addition to your meat thermometer, you can tell the drumsticks are close to being done when the skin and ligaments begin to pull away from the joint/knuckle area. I prefer the meat to fall-off-the-bone, which this temperature ensures!
ENJOY!
0